Let Your Video Shooting Become Easier
FEELWORLD has been committed to providing the comprehensive broadcast monitoring and solutions for the professional filmmakers. Whether the upgrade of the excellent display technology from HD to FHD or to UHD 4K resolution, FEELWORLD aims to support the professional creators to obtain the greater benefits and to create more exciting stories, with the most advanced technology to improve the production efficiency.
FEELWORLD T7 7″ 4K On-Camera Monitor
Professional color calibration, efficiently get accurate color reproduction easily, show the real image when you shooting video.
Its helpful for photographer framing and composition during shooting, post editing title placement.
1x Mini HDMI Cable
1x Sunshade
1x Hot Shoe Mount
1x F970 Battey Plate
1x Operation Manual
(Note: Battery is not included.)
Ultra-thin Lightweight Design
Specially designed to merge portability, and functionality, 18mm thickness 320g the T7 gives you freedom to shoot well anywhere. See your picture accurately, consistently and clearly, regardless of your position.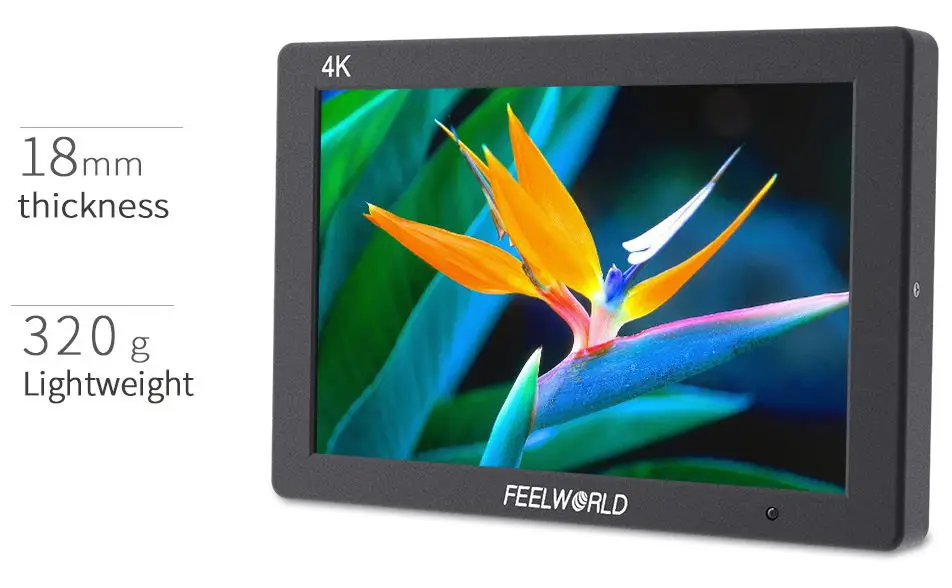 Aluminum Metal Frame
Light weight, durable construction
The frame of the FEELWOELD T7 is made from aircraft grade aluminum which means you get an incredibly sturdy metal that barely adds any weight to your camera. It's also comfortable enough and and still light enough which makes it perfect for bracing the mounting points.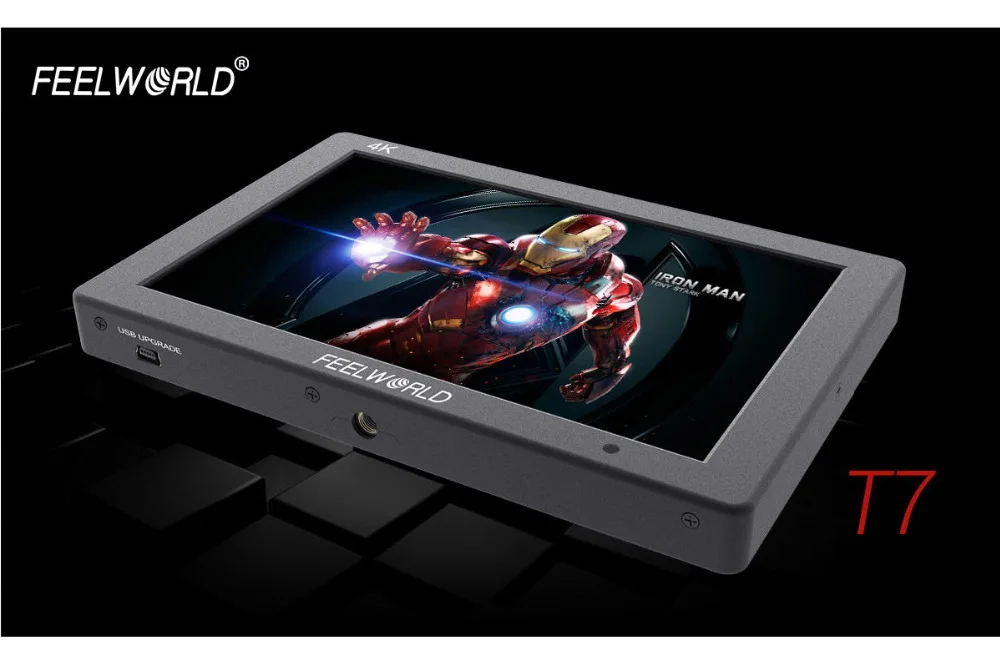 Full HD 1920×1200
Richer, Brighter, Most Colorful
With Full HD 1920×1200 high resolution Precise Color, an impressive 323 PPI (Pixels Per Inch), The pixel density of the T7 packs an impressive 323 PPI (Pixels Per Inch) blending individual pixels to the point that the naked eye can't define individual pixels. Sharper images, brings you the perfect visual experience.

IPS Wider View Angle 160°
Viewing Angle become very important, as the camera operators may shift his/her position relative to the monitor during the shot. T7 IPS 160° wide viewing angle allows the operator to have a clear, easy-to-see image as their position shifts.
True Color . Professional Color Calibration


Use Rec.709 color standard
FEELWORLD uses the professional Rec.709 HD color standard, and uses the color calibration technology, with the professional instrument calibration at the factory, it can achieve monitor calibration efficiently and get accurate color reproduction easily, do not distort the color, show the real image when you shooting video.
Accurate Color Reproduction
FEELWORLD monitor support ITU standards and HD video Rec.709 standard consistent color space, advanced image processing technology, so that the image clearly presented, the color is extremely natural, to ensure accurate color reproduction, to reproduce the physical nature of shooting, enabling users to accurately evaluate the quality of various input video signals.
Enjoy Efficiency Operation
Easy operate button design, allowing you immediately to improve the shooting efficiency. F1, F2 custom shortcut function keys, can fast access to the functions you needs, focus assist, false color, exposure, embedded audio etc.

4K HDMI Loop-out
The T7 has both HDMI in and loop-out , allowing it to not only display live signals, but also send them out to other monitors simultaneously. It's the ability to display live picture on multiple displays at once while still maintaining the original video quality.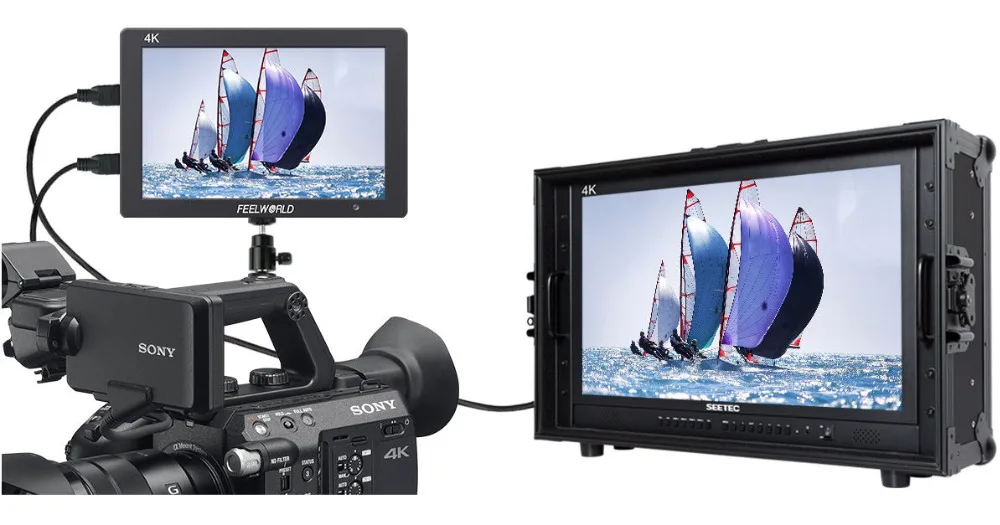 More Auxiliary Functions


FEELWORLD T7 integrated histogram, embedded audio, peaking focus assist, false color, exposure, check field, nine grid and zoom in professional functions, assist users to accurately exposure and focus when shooting, making and playing movies/ videos.
Brightness Histogram
The Brightness Histogram is a quantitative tool to check the picture brightness.The feature shows the distribution of brightness in an image as graph of brightness along the horizontal axis (Left:Dark, Right:Bright)and a stack of the number of pixels at each level of brightness along the vertical axis.
Peaking Focus Assist
The Peaking Filter is used to aid the camera operator in obtaining the sharpest possible picture. When activated, the internal processor will display a colored highlight on the screen where sharp edges appear. You can switch the putline color between red, green, blue according to different tone of the subject.
Standard Hot Shoe Mount 360 ° Rotation
Hot Shoe Mount can be connected with the DSLR, Slide and other shooting components to facilitate the shooting and monitoring of different scenes, can also be connect to tripod.
Flexible Battery System


The T7 has a flexible battery system that supports F970 battery plate (standard), D28S/D54, LP-E6 and U60 battery plate (optional), and also can powered by power adapter (optional).
Screen Size: 7″ IPS
Display Colors: 16.7M (8 bit)
Resolution: 1920×1200 pixels
Pixel Pitch: 0.07875 x 0.07875 mm
Aspect Ratio: 16:10
Brightness: 450cd/m2
Contrast Ratio: 1200:1
Viewing Angle: 80/80 degrees(L/R), 80/80 degrees(U/D)
Input: HDMI
Output: HDMI
Audio Out: Stereo Headphone, Speaker(built-in)
HDMI Support Format
480i/576i/480p/576p
1080i(60/59.94/50)
720p(60/59.94/50/30/29/25/24/23.98)
1080p(60/59.94/50/30/29.97/25/24/24sF/23.98/ 23.98sF)
4K UHD 3840x2160p (30/29.97/25/24/23.98Hz), 4096x2160p (24Hz)